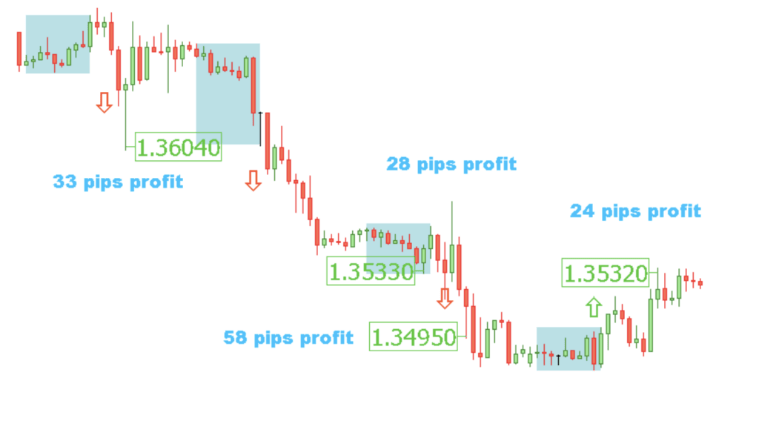 Danişîna Asyayî Forex Trading
Ji bo ku hûn di karsaziya danûstendina biyanî de wekî bazirganek bin, xetereyek bilind heye û dibe ku ji hemî veberhêneran re ne maqûl be. Asta bilind yên avantaj yan jî dikarin bi we an li hemberî we be. Ji bo ku li nagihe veberhênanê, Asta ezmûnê û xetereya xilasbûnê faktorek girîng e berî ku hûn bixwazin tev li danûstendina biyanî bibin. Di vê karsaziyê de, hûn dikarin xisarê bibînin û dibe ku veberhênana xweya destpêkê bişon. Ji ber vê yekê girîng e ku hûn tenê dermanek ku hûn dikarin wenda bikin veberhênin. Hişyar bin ku divê hûn ji xetereya xetereyê bi danûstendina biyanî agahdar bin û heke hûn di dudiliyê de ne, hûn dikarin bi şêwirmendên darayî re şêwir bikin. Ev stratejiya forex hewce nake Di dîrokê de Forex.
Çima Danişîna Asyayî Bazirganî bikin?
Gava ku hûn dibêjin bazara forex, hûn ê bifikirin 3 danişînên bazirganî, ev Asyayî ne, ewropî, û rûniştinên Amerîkî. Bi piranî, bazirganî di rûniştina Ewropî de tê kirin. Ev pergala bazirganiyê ji vê rastiyê sûd werdigire ku di pir rojan de danişîna Asyayî li gorî danişîna bazirganiya Ewropî pir aram e.
Fêr Bibin Meriv Çawa Danişîna Asyayî Bazirganî Dike
Pêdivî ye ku em li dora danişîna Asyayî qutiyek bikişînin ku wekî 11PM GMT jê re hatî destnîşan kirin 8 AM GMT. Barê yekem dê li wir xuya bibe 11 PM û barê dawîn dê ji hêla 8:00 am GMT im. Em ê di vê demê de qutiyek li dora barên yek demjimêrê bikişînin û xala herî bilind û nizm a vê demê têxin nav qutiya xwe.
Em ê tenê li yek cotek dravê binêrin û ev EURUSD e. EURUSD di bazara forex de yek ji cotek dravê herî bazirganî ye û bêhêziya wê baş e. Her weha hûn dikarin vê rêbazê li her cotên ku hûn jê hez dikin biceribînin ji ber ku ew di hemî cotên drav de jî dixebite.
EURUSD di danişîna Asyayî û di danişîna Ewropî de şêwazek bazirganî ya sînordar dişopîne, em ê bibînin ku cot tevgerek tundûtûjî di yek alî de dike.
Di vê chart, hûn dikarin wê ji çavdêriyê bikin 11:00nîvro - 08:00am GMT im, EUR/USD di hundurê qutiya şîn de bazirganî kiriye. Ev qutiya ku em her roj li ser çarçoweya demjimêra demjimêrek xêz dikin.
Ger qada sindoqê zêdetir be wê rojê bazirganiyê nekin 150 pips. Lebê, eger qutî rêzek hebe 150 pips an kêmtir, em ê lê binihêrin ku gava ku bazar li dervayê sindoqê bazirganî bike û bigire, em ê bazirganiyek bigirin, an ji danişîna Asyayî bilindtir an ji danişîna Asyayî nizmtir.
Gava ku danişîna Ewropî dest bi bazirganiyê dike tevgerek mezin heye, lê ew ê dîsa vegere. Hûn dikarin di rûniştina Ewropî de di demjimêra yekem a bazirganiyê de hilkişîna bilez a EURUSD bibînin, tevî tevgera aliyan a di danişîna Asyayî de.
Ev barê derewîn e û hewl bidin ku ji xefika vê dûr bikevin.
The Fake Out Bar
Bi girtina bazirganiyek li vir em dikarin werin xapandin lê ger em li bendê bin ku bazar bazirganî bike û ji qutiya xwe bilindtir an nizmtir bigire, wê hingê em dikarin ji vî barê derewîn dûr bisekinin.
Ka em li mînakek binêrin:
Bazirganiya firotanê ya ku li ser vî barî hatî hilgirtin ji ber ku bar ji qutiyê kêmtir digire.
Xala Têketinê
Li vir em dibînin ku bazar ji qutiya me nizimtir bazirganî kiriye û girtiye, ji ber vê yekê em dikevin nav bazirganiyek firotanê.
Em windabûna xweya sekinandinê li bilindahiya qutikê datînin.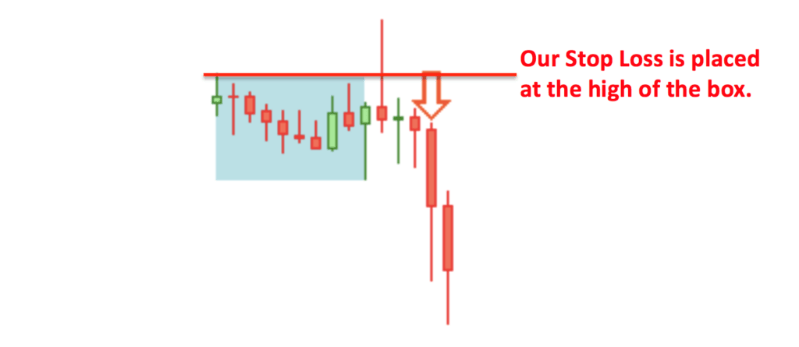 Stop Loss -a me li bilindahiya qutîkê tê danîn.
Qezencê mebest eynî dûrahiya qada qutiya me ye. Di vê rewşê de qada qutiya me ye 30 pips. Ji ber vê yekê, em ê bikin hedefa qezenca xwe 30 pips ji xala ketina me.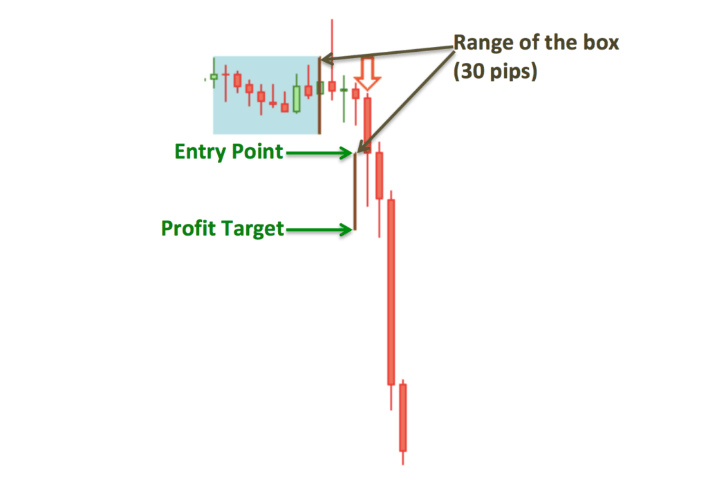 Rêzeya qutiyê (30 pips)
Têketina Xala Armanca Profit
Di vê rewşê de, armanca qezencê dê ji bo bidestxistî bû +30 pips. Jî, wek ku hûn dibînin, vê rojê bazar hîn bêtir daket jêr û me dikaribû ku em karibin dahata xwe zêde bikin.
Ji bo ku ew bi ewlehî û rast bikin, tê pêşniyar kirin ku du pozîsyonan vekin, helwestek li hedefa qezencê bigire, windabûna rawestandinê berbi nuqteya têketinê ve bikişînin û bila pozîsyona duyemîn ji bo yekî din bimeşe 30 pips ji hedefa qezencê bi tevahî 60 pips.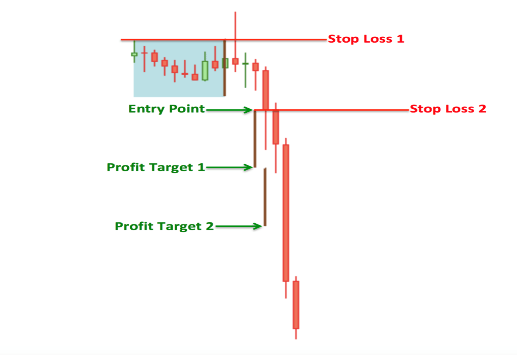 Ew 2 hedefên qezencê dê bi tevahî pêk bihatana +60 pips wê rojê.
Li vir mînakek din heye: Ev sindoq roja din e.
Bazirganiyê nekin. Ev qutî, ba 159 pips, ew pir mezin e.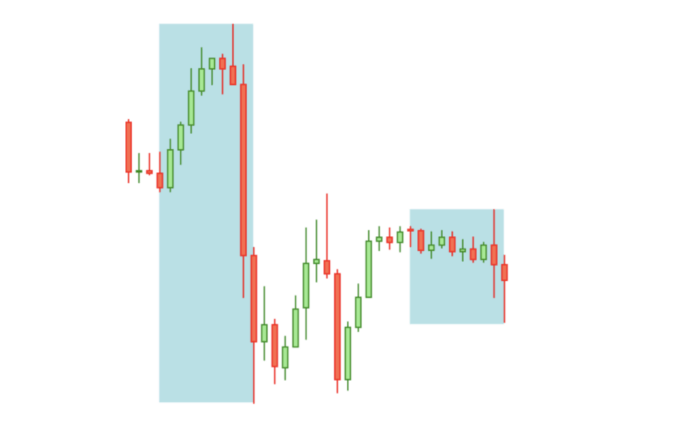 Di vê rewşê de, e bazirganiya gengaz wê rojê tune. Serweriya ya 150 qutiya pîvanê ya pips nîşanî me da ku em li derveyî sûkê bimînin. Ka em nuha li barikek din a derewîn mêze bikin, cihê ku rêbaza me me ji sûkê dûr dixe û ji windahiyek potansiyel dûr dike.
Piştî çend rojan, em qutiyek piçûk dibînin 25 pips, û sînyalek firotanê tê dest pê kirin.

Armanca qezencê ya 25 pips roja din hat xistin, 24 demjimêran piştî ku bazirganî hate girtin. Me li ser îşareta roja heyî bazirganiyek firotanê ya zêde girt.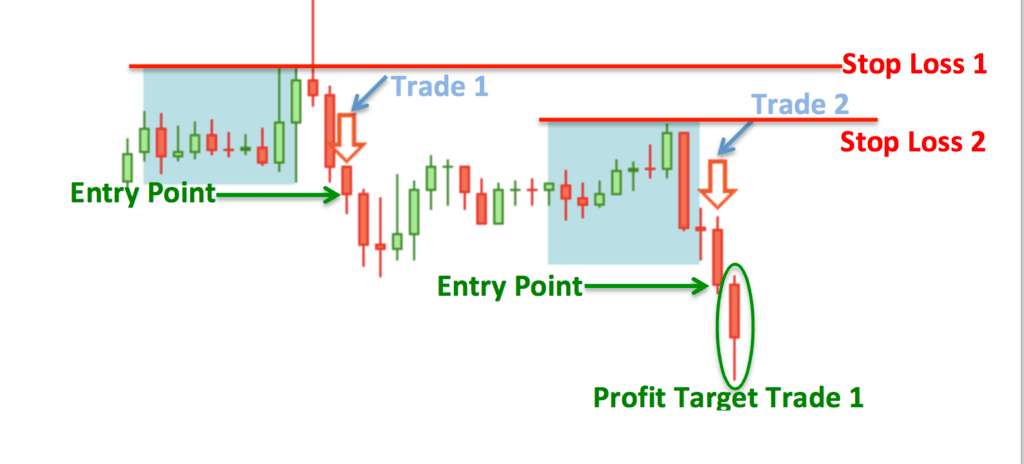 Ew bazirganiya zêde dê yekî din bidomîne 24 demjimêran berî ku em karibin wê berhev bikin +35 pips, û em ê bazirganiyek din lê zêde bikin ku dê ji bo zêdek bê girtin +33 pips heman rojê.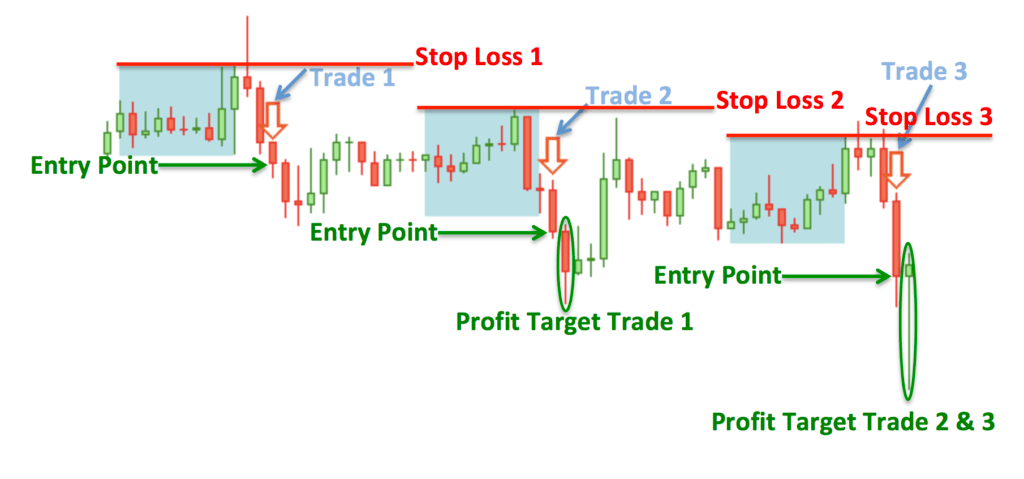 Encamnameya Danişîna Asyayî ya Bazirganî
Rûniştina Asyayî Strategy Trading Forex bikêrhatî ye û dikare her roj dahatên domdar bide we. Tête pêşniyar kirin ku hûn li gorî rêzikan bisekinin û bi hestên xwe re bazariyê nekin. Dîsîplîn û domdarî hewce ye ku meriv bibe bazirganek baş, û ji her tiştî bikêrtir derkevin.
Di heman demê de teşwîq e ku hûn ê li qaîdeyên cihêreng mêze bikin ger hûn difikirin ku awayek çêtir heye ku danûstendina Asyayî bazirganî bikin. Wek mînak em bêjin hûn biryar didin ku hûn ji bazirganiyê derkevin piştî ku bazar li hundurê sindoqê vegere ji dêvla ku hûn li bendê bin ku bazar li xala navîn a qutîkê li windabûna we bide., an şûna ku hûn sûd werbigirin rawestgehek şopê bikar bînin. Piştî ku bazar tevdigere zirara weya rawestandinê berbi breakeven ve diçin 50% riya ber bi hedefa qezenca we ve jî rêyek din e. Bi hezaran rêzik hene lê pêşî wê bikar bînin an ceribandin.
Serkevtî bin!
Tim Morris