Are you a trader seeking ways to bolster your trading strategy and make more informed decisions? Look no further than the ADR MT4 Indicator. In this article, we'll delve into the world of the ADR (Average Daily Range) MT4 Indicator, exploring its benefits, functionality, and how it can contribute to your trading success. So, let's dive in and uncover how this powerful tool can enhance your trading endeavors.
Understanding ADR: The Backbone of Market Analysis
What is ADR and Why Does it Matter?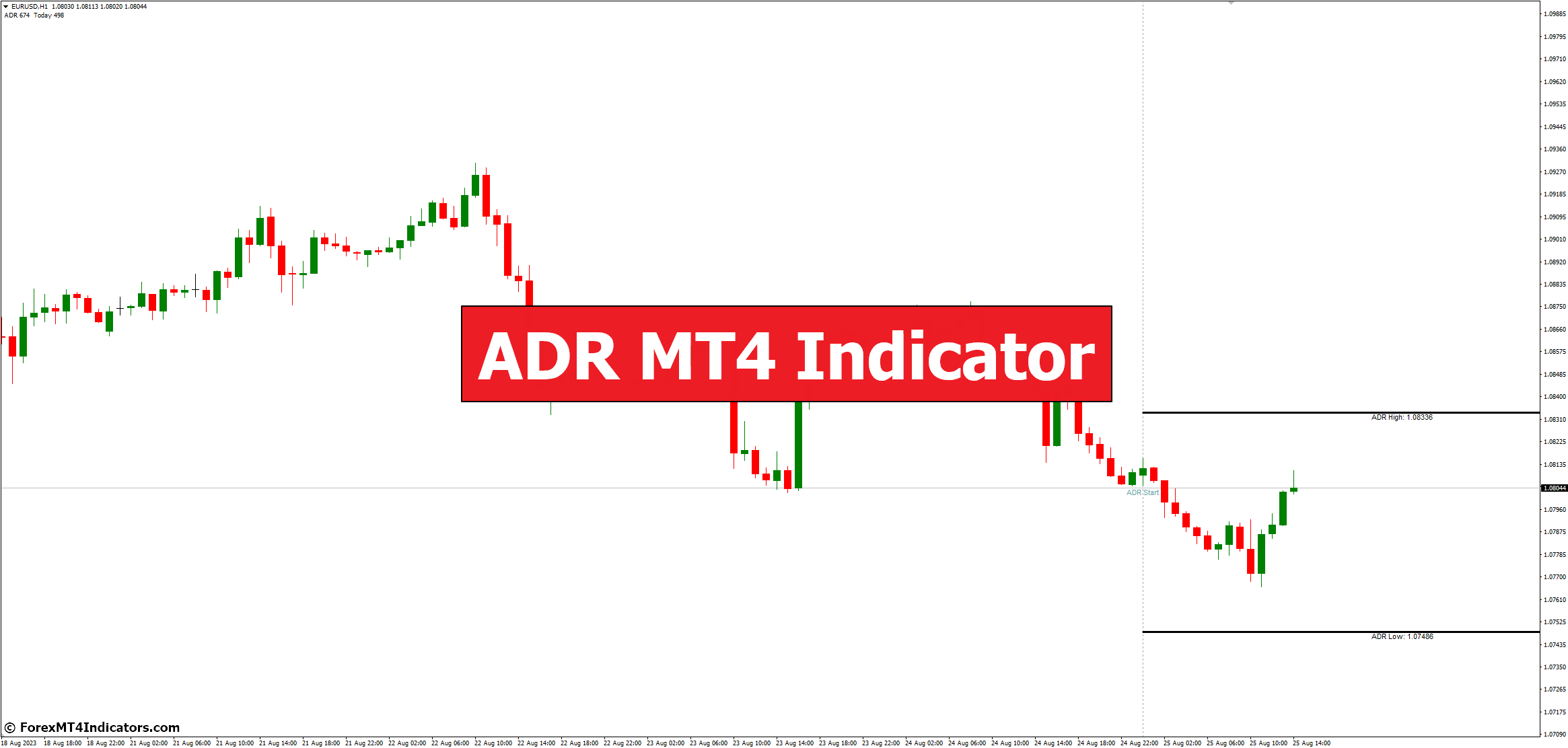 The Average Daily Range (ADR) is a crucial metric that gauges the potential price movement within a trading day. It's a representation of the difference between a financial instrument's high and low prices over a specified period. ADR offers traders valuable insights into volatility, aiding them in setting realistic profit targets and stop-loss levels.
Incorporating ADR into Your Strategy
Integrating the ADR MT4 Indicator into your trading platform can provide you with a comprehensive overview of a market's volatility. By calculating the ADR over various timeframes, you can adapt your strategy to market conditions. For instance, during periods of high volatility, you might opt for wider profit targets to account for larger price fluctuations.
The Inner Workings of ADR MT4 Indicator
How ADR MT4 Indicator Functions
The ADR MT4 Indicator is a technical tool that automates the calculation of the Average Daily Range. It saves you time and effort by swiftly providing you with the ADR data for your chosen timeframe. With this information, you can make informed decisions without manual calculations.
Customization and Flexibility
One of the ADR MT4 Indicator's key features is its flexibility. You can customize the indicator to calculate the ADR based on your preferred timeframe – whether it's a day, week, or month. This adaptability ensures that the indicator aligns with your trading style and goals.
Elevate Your Trading Strategy with ADR MT4 Indicator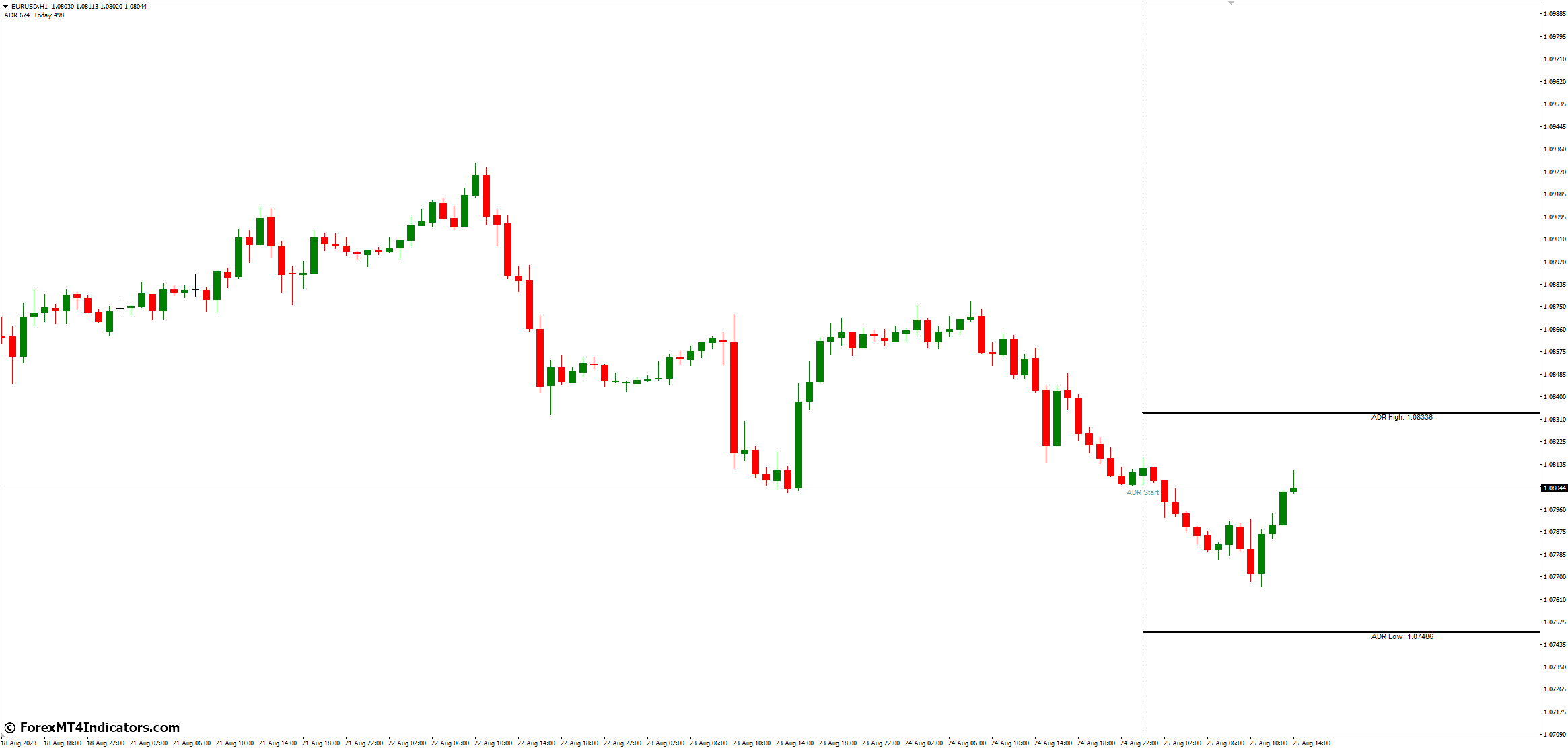 Accurate Entry and Exit Points
The ADR MT4 Indicator not only reveals the potential price movement but also assists in identifying optimal entry and exit points. By understanding a market's volatility, you can set more accurate profit targets and determine when a trade has reached its potential.
Risk Management and Position Sizing
Successful trading hinges on effective risk management. The ADR MT4 Indicator empowers you to adjust your position sizes according to the market's volatility. During high volatility, smaller positions can help mitigate risk, while larger positions might be suitable for calmer market conditions.
Perfect Offerings for Discerning Traders
Real-time Data Analysis
With the ADR MT4 Indicator, you gain access to real-time ADR data, allowing you to make timely decisions based on the market's current conditions. This feature is invaluable for day traders who need up-to-the-minute information.
User-Friendly Interface
The ADR MT4 Indicator is designed with traders in mind. Its intuitive interface ensures that both novice and experienced traders can easily navigate and harness its power without a steep learning curve.
ADR MT4 Indicator Settings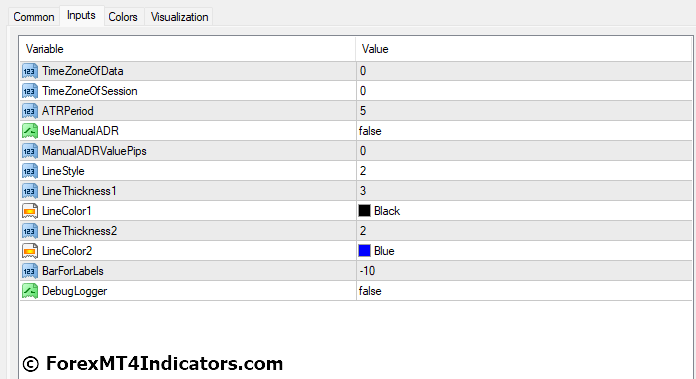 Conclusion
In the ever-evolving landscape of trading, staying ahead requires a data-driven approach. The ADR MT4 Indicator equips you with the insights needed to make informed decisions, capitalize on market volatility, and manage risk effectively. Whether you're a seasoned trader or just starting, incorporating the ADR MT4 Indicator into your strategy can be the key to unlocking trading success.
FAQs
How can the ADR MT4 Indicator enhance my trading strategy?
By providing insights into market volatility, the ADR MT4 Indicator aids in setting profit targets, determining entry and exit points, and managing risk.
Is the ADR MT4 Indicator suitable for beginners?
Yes, the user-friendly interface makes it accessible for traders of all levels, including beginners.
Can I customize the timeframe for ADR calculation?
Absolutely, the ADR MT4 Indicator allows customization of timeframes, aligning with your trading preferences.
MT4 Indicators – Download Instructions
This is a Metatrader 4 (MT4) indicator and the essence of this technical indicator is to transform the accumulated history data.
This MT4 Indicator provides for an opportunity to detect various peculiarities and patterns in price dynamics which are invisible to the naked eye.
Based on this information, traders can assume further price movement and adjust their strategy accordingly. Click here for MT4 Strategies
Recommended Forex MetaTrader 4 Trading Platform
Free $50 To Start Trading Instantly!

(Withdrawable Profit)

Deposit Bonus up to $5,000
Unlimited Loyalty Program
Award Winning Forex Broker
Additional Exclusive Bonuses Throughout The Year
>> Claim Your $50 Bonus Here <<
How to install MT4 Indicator?
Download the mq4 file.
Copy mq4 file to your Metatrader Directory / experts / indicators /
Start or restart your Metatrader 4 Client
Select Chart and Timeframe where you want to test your MT4 indicators
Search "Custom Indicators" in your Navigator mostly left in your Metatrader 4 Client
Right click on the mq4 file
Attach to a chart
Modify settings or press ok
And Indicator will be available on your Chart
How to remove MT4 Indicator from your Metatrader Chart?
Select the Chart where is the Indicator running in your Metatrader 4 Client
Right click into the Chart
"Indicators list"
Select the Indicator and delete
(Free Download)
Click here below to download: