Introduction to the Two Symbols on Chart iSymbol Indicator
One of the unique characteristics of the forex market is that traders are exchanging money for money, just with different currencies. These currencies have varying momentum which is affected by its home economy and other factors. Traders who can identify which currency is weak and which is strong and could pair these currencies in a trade have a high probability of making the right trade. This can be observed with correlations which the Two Symbols on Chart iSymbols Indicator shows.
What is the Two Symbols on Chart iSymbol Indicator?
The Two Symbols on Chart iSymbol Indicator is an indicator which overlays a price chart of another forex currency pair on your current price chart. It displays the second currency pair as a bar chart. It also allows users to invert the second currency pair, freeze it, or scale the range of the second currency pair with that of your current price chart.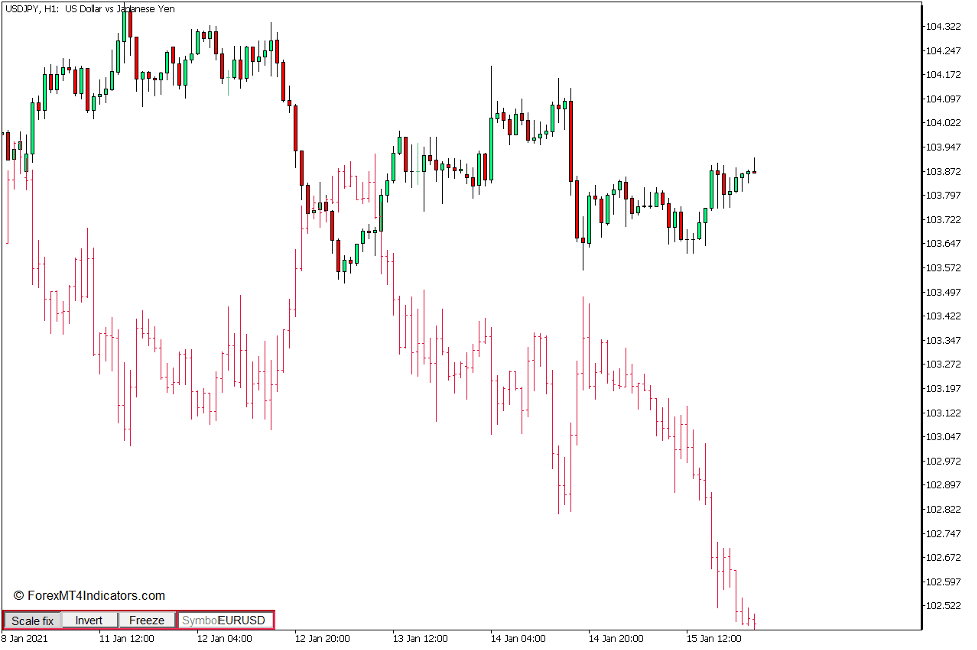 How the Two Symbols on Chart iSymbol Indicator Works?
The Two Symbols on Chart iSymbol Indicator has a simple algorithm that retrieves the price feed of another currency pair from your broker's server. It then overlays the price feed on your current price chart. It also has an algorithm that scales the price range of the second currency pair to match that of your main currency pair when toggled on. Another algorithm that it has is that it would invert the display whenever the "Invert" option is toggled on.
How to use the Two Symbols on Chart iSymbol Indicator for MT5
The Two Symbols on Chart iSymbol Indicator has three important options within its inputs settings.
"Symbol" allows users to choose which currency pair would be overlaid on the price chart. Users simply have to type in the symbol of the currency pair they would want to be displayed. The symbol typed in should exactly be similar to the symbol used by the broker.
"Invert" flips the overlaid currency pair upside down. This is useful for currency pairs wherein we are looking for correlations between currencies which has inverse correlations. This is applicable whenever the common currency between two currency pairs has one as a term currency while the other is a commodity currency. For example, the EURUSD and USDCHF are inversely correlated based on its common currency which is the USD.
The chart below shows the overlaid currency, which is the EURUSD in a non-inverted manner.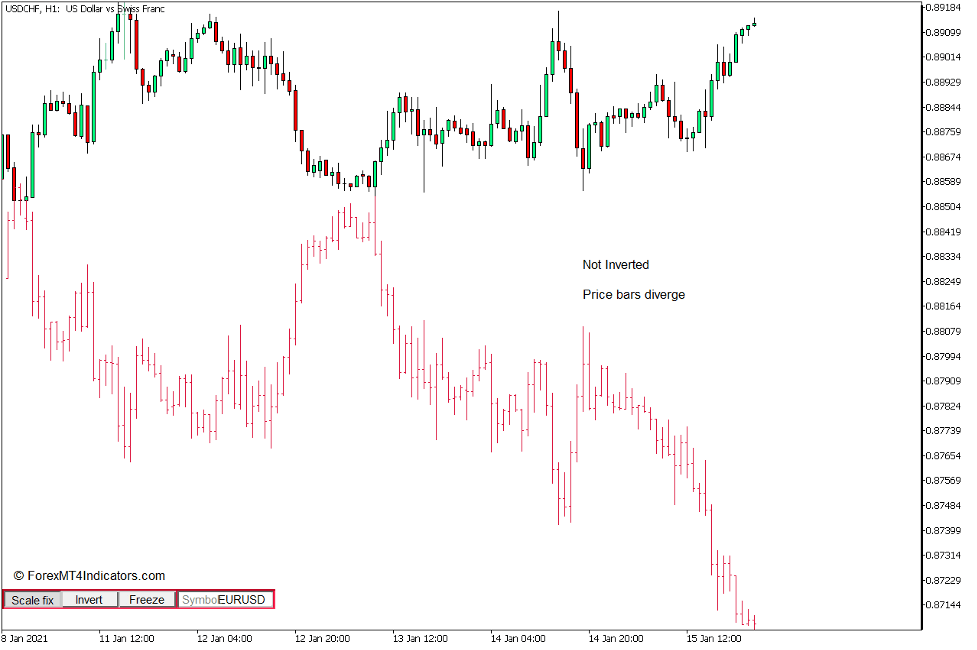 The same currency pairs with the EURUSD price bars inverted shows us an observable correlation between price swings.
"Scale fix" scales the range of the overlaid currency pair to the current price range of the main currency pair. It is important that users toggle this on as currency pairs usually do not have similar normal price ranges. Users may not see the overlaid currency pair if this is not toggled on since it would be plotted far from the main currency pair's price range.
Although the options mentioned above can be toggled and modified within the "Inputs" tab of the indicator's settings, there are also tabs at the bottom left of the price chart which allows users to quickly modify these settings without going into the settings window.
Conclusion
This indicator is not an indicator which provides trade signals or trend and momentum direction indications. Instead, it allows traders to easily observe correlations between currency pairs and assess which currency is strong, which is weak, and which currency is causing the market to move.
MT5 Indicators – Download Instructions
This is a Metatrader 5 (MT5) indicator and the essence of this technical indicator is to transform the accumulated history data.
This MT5 Indicator provides for an opportunity to detect various peculiarities and patterns in price dynamics which are invisible to the naked eye.
Based on this information, traders can assume further price movement and adjust their strategy accordingly. Click here for MT5 Strategies
Recommended Forex MetaTrader 5 Trading Platforms
XM Market
Free $50 To Start Trading Instantly!

(Withdrawable Profit)

Deposit Bonus up to $5,000
Unlimited Loyalty Program
Award Winning Forex Broker
Additional Exclusive Bonuses Throughout The Year
>> Claim Your $50 Bonus Here <<
How to install MT5 Indicator to your MetaTrader 5 Chart?
Download mq5 file below
Copy the mq5 file to your Metatrader 5 Directory / experts / indicators /
Start or restart your Metatrader 5 Client
Select Chart and Timeframe where you want to test your mt5 indicator
Search "Custom Indicators" in your Navigator mostly left in your Metatrader 5 Client
Right click on mq5 file
Attach to a chart
Modify settings or press ok
And the Indicator is available on your Chart
How to remove MT5 Indicator from your Metatrader 5 Chart?
Select the Chart where is the Indicator running in your Metatrader 5 Client
Right click into the Chart
"Indicators list"
Select the Indicator and delete
(Free Download)
Click here below to download: