Introduction to the Time Zones Indicator
One of the advantages of forex trading is that it can be traded 24 hours a day, and a little over five days a week. It also allows traders to trade anywhere in the world on any time zone. However, this can sometimes cause confusion for some traders when it comes to market timing.
The Time Zones indicator is a tool that can help traders compensate for the differing time zones and allow them to make sense of their trades based on market timing.
What is the Time Zones Indicator?
The Time Zones indicator is a custom indicator which can help traders identify the relationship between their current local time and the server time using markers on a few major time zones. It plots a vertical line to mark the hour on which the date on major time zones change. These major time zones are the International Date Line (IDL), Greenwich Mean Time (GMT) or Coordinated Universal Time (UTC), Eastern Standard Time (EST), and Mountain Standard Time (MST).
How the Time Zones Indicator Works?
The Time Zones indicator has preset times which it would add or subtract to the server time in order to identify the 12:00 midnight of each major time zone. It then plots a colored vertical line to identify the time in which the date of each time zone has changed.
The International Date Line is marked by a red line, the Greenwich Mean Time is marked by a blue line, the Mountain Standard Time is marked by a lime line, and the Eastern Standard Time is marked by a dark orchid colored line.
How to use the Time Zones Indicator for MT5
The Time Zones indicator allows for several modifications within its indicator's settings, most of which are visual modifications for aesthetic purposes. It allows modifications on the color, type, and the width of each line.
More importantly, it also allows modifications on the number which should be added to the day line. This is important because there are times when the timing of a time zone would change due to changes on the Daylight Saving Time. Traders should adjust the time added to the International Date Line whenever time shifts on certain time zones due to the Daylight Saving Time. These can be modified on the variables GMT, MST, and EST.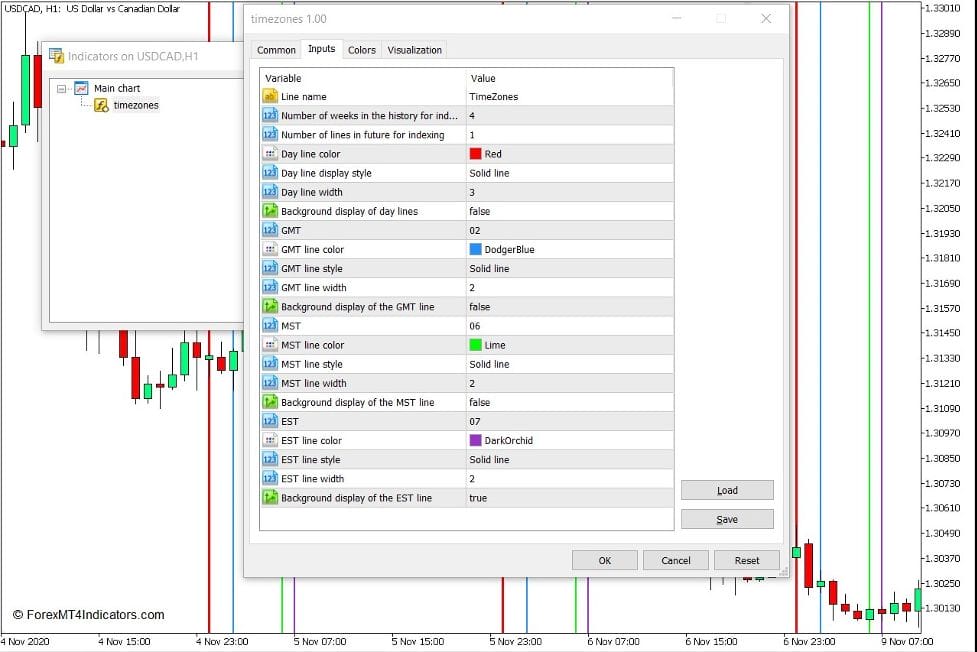 The Time Zones indicator does not provide technical indications such as trend direction, momentum, volatility, trend reversals, or overbought and oversold price levels. As such, it should not be used as a means to identify possible trade setups and trade entries.
However, the Time Zones indicator can be used to help traders make sense of market timing since most forex traders are trading on a time zone that is different from their server time. This would allow them to time their trades correctly when needed.
Conclusion
The Metatrader 4 platform lacks the capability of changing the time displayed according to the preference of the trader. Instead, the MT4 platform displays only the server time.
The Time Zones indicator can be a very helpful tool as it allows traders to somehow identify the current time on certain major time zones which is vital for some trading strategies.
MT5 Indicators – Download Instructions
This is a Metatrader 5 (MT5) indicator and the essence of this technical indicator is to transform the accumulated history data.
This MT5 Indicator provides for an opportunity to detect various peculiarities and patterns in price dynamics which are invisible to the naked eye.
Based on this information, traders can assume further price movement and adjust their strategy accordingly. Click here for MT5 Strategies
Recommended Forex MetaTrader 5 Trading Platforms
XM Market
Free $50 To Start Trading Instantly!

(Withdrawable Profit)

Deposit Bonus up to $5,000
Unlimited Loyalty Program
Award Winning Forex Broker
Additional Exclusive Bonuses Throughout The Year
>> Claim Your $50 Bonus Here <<
How to install MT5 Indicator to your MetaTrader 5 Chart?
Download mq5 file below
Copy the mq5 file to your Metatrader 5 Directory / experts / indicators /
Start or restart your Metatrader 5 Client
Select Chart and Timeframe where you want to test your mt5 indicator
Search "Custom Indicators" in your Navigator mostly left in your Metatrader 5 Client
Right click on mq5 file
Attach to a chart
Modify settings or press ok
And the Indicator is available on your Chart
How to remove MT5 Indicator from your Metatrader 5 Chart?
Select the Chart where is the Indicator running in your Metatrader 5 Client
Right click into the Chart
"Indicators list"
Select the Indicator and delete
(Free Download)
Click here below to download: