Hvis du har vært i handel i ganske lang tid, you would know how erratic the market is. The forex market is even more notorious for being too volatile. Price could move up and down for more than hundred pips in a matter of a few hours at times. Being the biggest market, with over $5.1 billioner blir handlet i gjennomsnitt daglig, the forex market could naturally be the most volatile trading market. Samtidig, it also holds the most potential for traders to make profit. With volatility comes not only risks but also opportunities.
The question now is how do we make sense out of the forex market's volatility? How can we anticipate and read where the market is more likely to move?
There are no quick and sure answers to the question above. Trading is a speculation game. Traders would never no for sure where price is moving. All they can do is speculate based on the historical movement patterns of the market.
One pattern or movement characteristic that is widely popular is the Elliott Wave. The Elliott Wave Theory is a form of technical analysis wherein traders would forecast price movements based on a recurring movement cycle or pattern.
Seasoned Elliott Wave traders can effectively spot such waves. Men, new traders might find it difficult to read the cyclical patterns of the forex market due to its volatility. Elliott Wave Forex Swing Trading Strategy simplifies the process using an indicator which is based on the Elliott Wave theory.
Elliott Bølge Oscillator
The Elliott Wave Oscillator (EWO (andre) is a trend following technical indicator which is part of the oscillator family of indicators.
It is basically an oscillator which is computed based on the difference between a 5-period Simple Moving Average (Sma) og et 35-punkts enkelt glidende gjennomsnitt (Sma). It also uses the standard close of each period as a basis for the computation. The results are then plotted as histogram bars on its own indicator window.
This version of the EWO computes the histogram bars based on the median price. It also applies a smoothing method based on a simple moving average. It also plots a moving average of the histogram bars, which is preset to plot a 5-period Simple Moving Average (Sma). Men, these settings can be modified according to the preference of the trader.
På en måte, this version of the EWO is much like the Moving Average Convergence and Divergence (Macd) and can be used the same way.
The crossover of the bars and the line would indicate an initial signal of a probable trend reversal. The crossing over of the bars and the midline, som er null, would confirm the trend reversal. Traders can use these signals as a reversal signal. The location of the bars in relation to the midline could also serve as a trend direction filter.
Relative Strength Index
Relative Strength Index (Rsi) is a classic technical indicator which is also an oscillator.
The RSI compares the bullish price momentum, which is the average gain, against the bearish price momentum, which is the average loss. It also incorporates the previous average gain and loss with the current gain and loss. The resulting figures are plotted as a line which oscillates within the range of 0 til 100, med 50 being the midline. This line would usually mimic the movement of price action on the price chart.
The classic RSI indicator window typically has markers at 30, 50 Og 70. If the line is below 30, price is considered oversold and might be due for a bullish reversal. Hvis linjen er over 70, price is considered overbought and might be due for a bearish reversal. Men, momentum traders look at it differently. They would consider a drop below 30 as a possible bearish momentum and a breach above 70 as a possible bullish momentum. Nivå 50, being the midpoint would usually be used as a basis for trend bias or trend direction.
Many trend and momentum following traders would also add levels 45 Og 55 to identify the trend. Et brudd ovenfor 55 would indicate a confirmation of a bullish trend while level 45 would serve as support. på den andre siden, a drop below level 45 would indicate a bearish trend while level 55 would serve as a resistance.
Ema 5 10 34 Crossover
Ema 5 10 34 Crossover is a trend reversal signal indicator which is based on the crossing over three moving average lines.
This indicator is preset to produce a signal whenever the 5-period, 10-period and 34-period Exponential Moving Average (Ema) linjer crossover. Men, these parameters can be modified depending on what the trader prefers or needs.
The indicator plots a red arrow pointing down whenever it detects a bearish trend reversal signal and a blue arrow pointing up whenever it detects a bullish trend reversal signal.
Handelsstrategi
This trading strategy is a simple trend reversal trading strategy which is based on the confluence of signals coming from the three indicators above.
Første, we would look for the EWO bars to cross over its midline. The trade direction will be based on which direction the bars are crossing.
Deretter, the RSI line should start to cross above 55 in a bullish trend or below 45 in a bearish trend.
The final entry signal will be based on the signal arrow produced by the EMA 5 10 34 Indikator for overkrysning. Men, the underlying EMA lines would be modified in order to fit the type of reversal strategy we are going for.
Indikatorer:
Ema 5 10 34 Overkrysning

Faster MA

: 10

Medium MA

: 15

Slower MA

: 36

Elliott_Wave_Oscillator
Relative Strength Index
Foretrukne tidsrammer: 1-time, 4-time og daglig diagrammer
Valutapar: Fx-hovedfag, mindreårige og kryss
trading Sessions: Tokyo, London og New York økter
Kjøp handelsoppsett
Oppføring
The EWO bars should be positive

.
RSI-linjen skal krysse over 55.
EMA 5 10 34 Crossover-indikatoren skal skrive ut en pil som peker oppover.
Angi en kjøpsordre på samløpet av disse forholdene.
Stopp tap
Sett stop loss på støttenivå under oppføringen stearinlys.
Avslutte
Close the trade as soon as the EWO bars cross below zero

.
Selg handelsoppsett
Oppføring
The EWO bars should be negative

.
RSI-linjen skal krysse under 45.
EMA 5 10 34 Crossover-indikatoren skal skrive ut en pil som peker nedover.
Angi en salgsordre på samløpet av disse forholdene.
Stopp tap
Sett stop loss på motstandsnivået over kommando stearinlys.
Avslutte
Close the trade as soon as the EWO bars cross above zero

.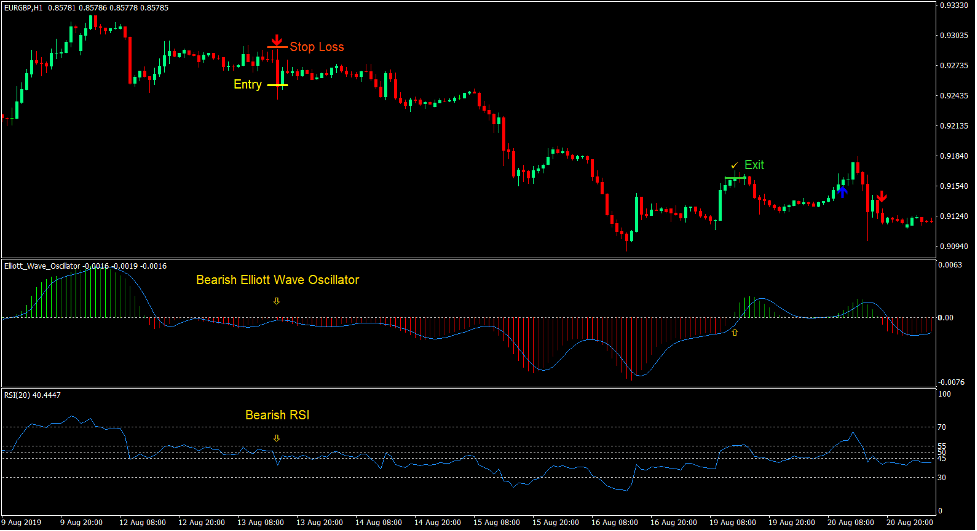 Konklusjon
Trading trend reversals based on a swing trading perspective is an excellent way to trade the market. It is in the swing trading timeframes where market noise is greatly reduced, thus allowing technical analysis to playout in the long run.
The combination of these indicators with these settings are very synergistic. This allows this strategy to produce good trade setups whenever the market is showing signs of a reversal.
Traders should also incorporate supply and demand zones in order for them to have a basis why the market is reversing on certain areas. Traders who can incorporate price action as well as supply and demand or market flow into strategies like this could earn consistent profits from the market.

Installasjonsinstruksjoner for Forex Trading Strategier
Elliott Wave Forex Swing Trading Strategy is a combination of Metatrader 4 (MT4 (andre personer)) Indikator(S) og mal.
Essensen av denne forex strategien er å forvandle de akkumulerte historiedata og handelssignaler.
Elliott Wave Forex Swing Trading Strategy provides an opportunity to detect various peculiarities and patterns in price dynamics which are invisible to the naked eye.
Basert på denne informasjonen, tradere kan anta ytterligere prisbevegelse og justere denne strategien tilsvarende.
Anbefalt Forex MetaTrader 4 Handelsplattform
Gratis $50 For å begynne å handle umiddelbart!

(Uttakbar fortjeneste)

Innskuddsbonus opp til $5,000
Ubegrenset lojalitetsprogram
Prisvinnende Forex Megler
Ytterligere eksklusive bonuser Gjennom hele året
>> Gjør krav på deg $50 Bonus her <<
Klikk her for trinnvis åpningsveiledning for XM Broker-konto
How to install Elliott Wave Forex Swing Trading Strategy

?
Download Elliott Wave Forex Swing Trading Strategy.zip

*Kopier mq4- og ex4-filer til Metatrader-katalogen / Eksperter / Indikatorer /
Kopier tpl-fil (Mal) til Metatrader-katalogen din / Maler /
Starte eller starte Metatrader-klienten på nytt
Velg Diagram og tidsramme der du vil teste forex-strategien
Høyreklikk på handelsdiagrammet ditt og hold pekeren over "Mal"

Move right to select Elliott Wave Forex Swing Trading Strategy

You will see Elliott Wave Forex Swing Trading Strategy is available on your Chart
*Merk: Ikke alle forex strategier kommer med mq4/ex4 filer. Noen maler er allerede integrert med MT4-indikatorene fra MetaTrader-plattformen.
Klikk her nedenfor for å laste ned:
Lagre
Lagre