In the fast-paced world of financial markets, traders are constantly seeking tools and strategies to gain an edge and make informed decisions. One such tool that has been gaining popularity in recent times is the Jebatfx Breakout Trendline MT4 Indicator. In this article, we will explore how this indicator works and how traders can effectively utilize it to identify potential breakout opportunities in the market.
Understanding Breakout Trading
Before we delve into the specifics of the Jebatfx Breakout Trendline MT4 Indicator, let's first establish a fundamental understanding of breakout trading. Breakout trading is a popular strategy employed by traders to capitalize on significant price movements in the market.
In essence, breakout traders look for instances where the price of an asset breaks above or below a predefined level of support or resistance. When such a breakout occurs, it often signifies a shift in market sentiment and can lead to substantial price movements. Traders who can accurately identify these breakouts stand to profit from these volatile market swings.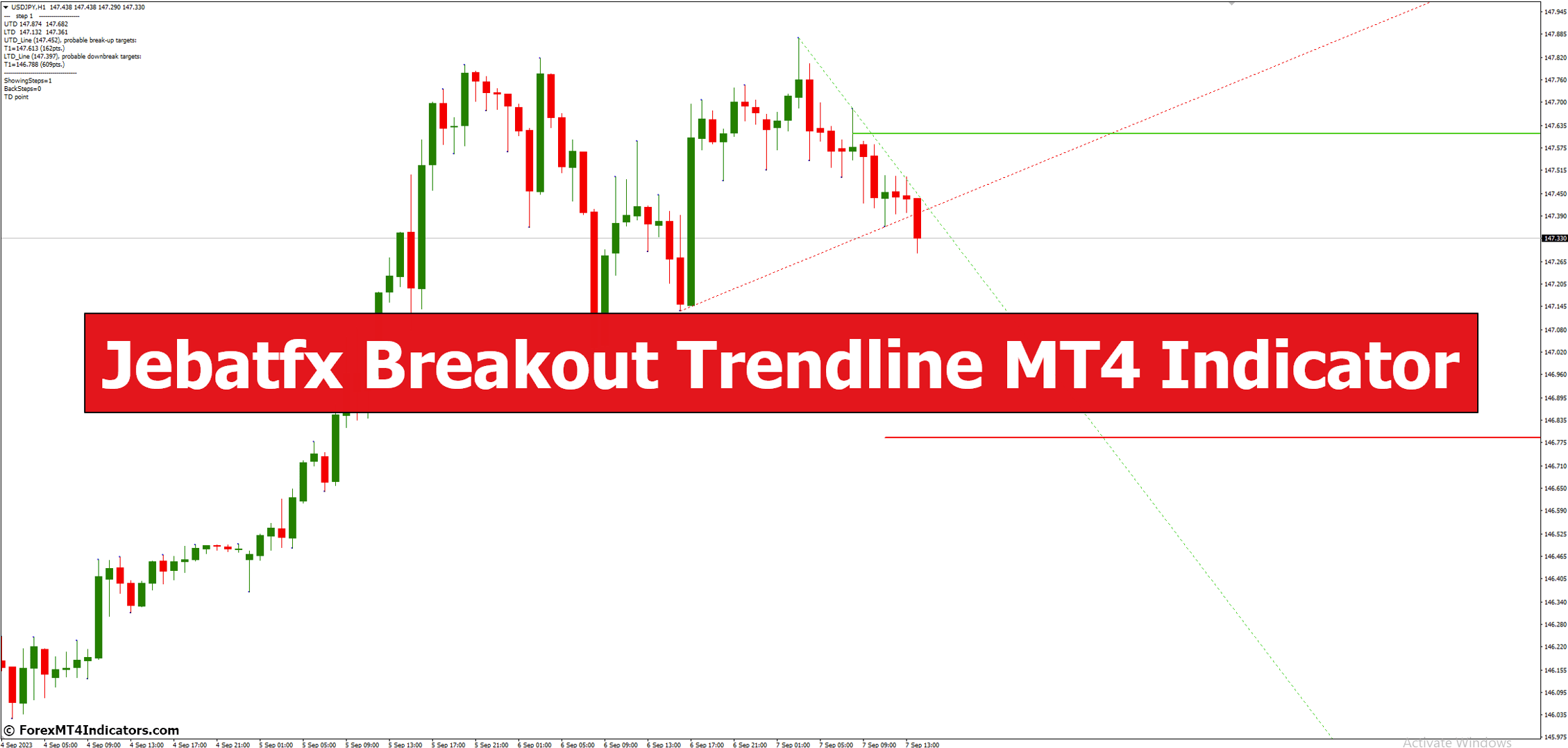 Key Features of the Jebatfx Breakout Trendline MT4 Indicator
Customizable Parameters: Traders can tailor the indicator's settings to suit their specific trading preferences and risk tolerance.
Real-time Alerts: The Jebatfx indicator provides real-time alerts, ensuring that traders do not miss potential breakout opportunities even when they are away from their screens.
Historical Analysis: It also offers a historical analysis feature, allowing traders to backtest the indicator's performance on past data to gauge its effectiveness.
How Does It Work?
The Jebatfx Breakout Trendline MT4 Indicator operates by drawing trendlines on a price chart. These trendlines are not ordinary; they are dynamic and adjust in real-time based on market conditions. Here's a simplified breakdown of how it functions:
Identification of Price Trends: The indicator first identifies prevailing price trends, whether bullish or bearish.
Dynamic Trendline Placement: It then draws dynamic trendlines on the chart, taking into account recent price action and volatility.
Breakout Points: When the price approaches these trendlines and breaks through them, the indicator generates a signal, indicating a potential breakout.
Effectively Using the Jebatfx Breakout Trendline MT4 Indicator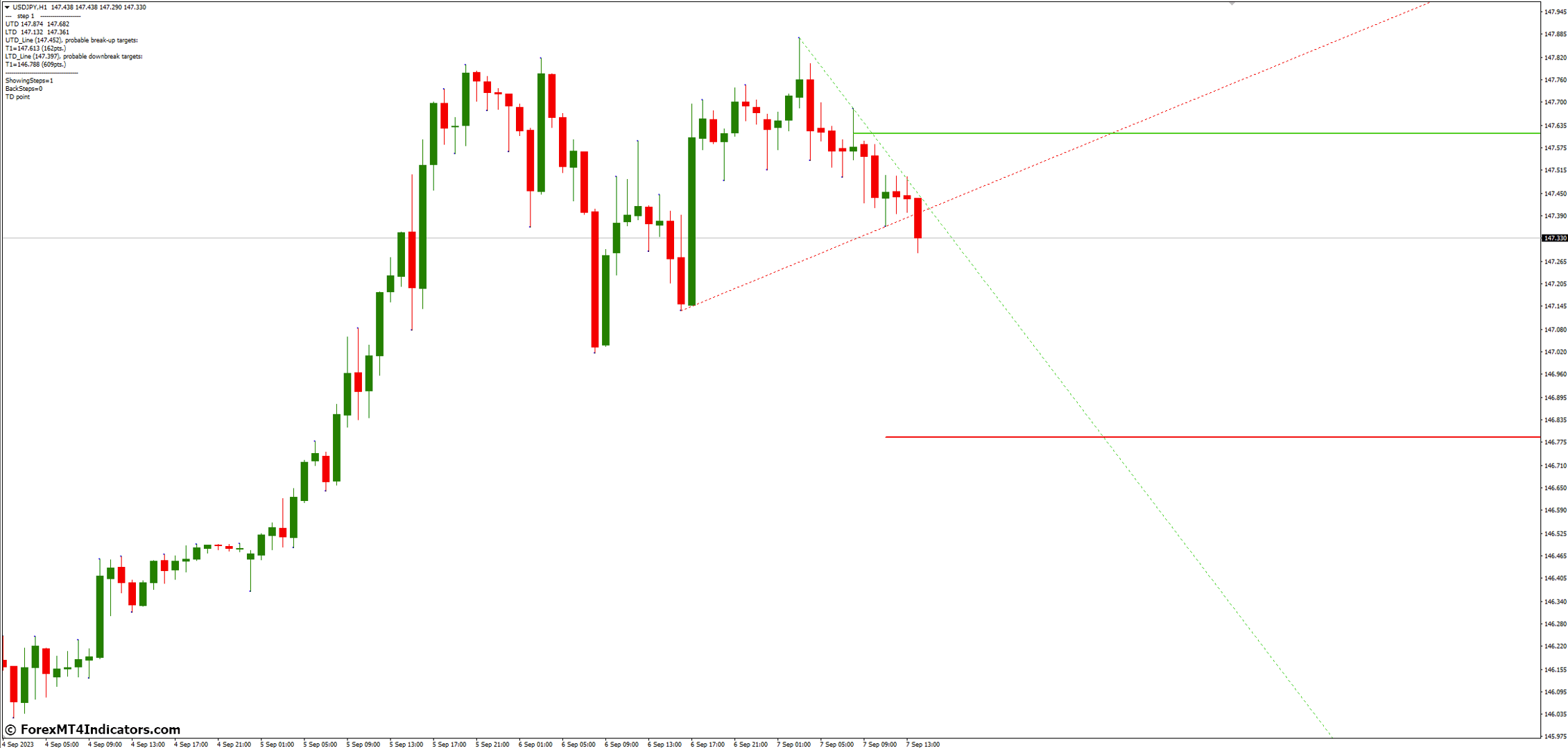 To harness the full potential of this indicator, traders should keep several key points in mind:
Confirmation Signals: It's prudent to wait for additional confirmation signals, such as candlestick patterns or other technical indicators, before executing a trade based solely on the Jebatfx indicator.
Risk Management: As with any trading strategy, risk management is crucial. Set stop-loss orders to limit potential losses and always trade with a clear risk-reward ratio in mind.
Practice and Learning: New users should spend time practicing with the indicator on a demo account to become familiar with its signals and behavior.
How to Trade with Jebatfx Breakout Trendline MT4 Indicator
Buy Entry
Identify price breaking above the upper trendline.
Confirm breakout with additional analysis if needed.
Consider entering a buy trade.
Set a stop-loss below the breakout point.
Determine a take-profit level.
Sell Entry
Spot price breaking below the lower trendline.
Validate the breakdown with other tools if desired.
Consider initiating a sell trade.
Place a stop-loss above the breakdown point.
Decide on a take-profit level.
Implement risk management strategies.
Jebatfx Breakout Trendline MT4 Indicator Settings
Conclusion
In conclusion, the Jebatfx Breakout Trendline MT4 Indicator can be a valuable addition to a trader's toolkit. When used judiciously and in conjunction with other analytical tools, it can assist traders in identifying potential breakout opportunities with precision. However, like all trading tools, it should be employed with care and in alignment with a well-thought-out trading strategy.
Frequently Asked Questions
Is the Jebatfx Breakout Trendline MT4 Indicator suitable for novice traders?
Yes, the indicator's user-friendly interface makes it accessible to traders of all experience levels.
Can I use this indicator for different financial instruments?
Absolutely. The Jebatfx Breakout Trendline MT4 Indicator can be applied to various assets, including stocks, forex, and commodities.
Is the historical analysis feature useful for backtesting trading strategies?
Yes, traders can use the historical analysis feature to assess the indicator's performance in different market conditions.
MT4 Indicators – Download Instructions
This is a Metatrader 4 (MT4) indicator and the essence of this technical indicator is to transform the accumulated history data.
This MT4 Indicator provides for an opportunity to detect various peculiarities and patterns in price dynamics which are invisible to the naked eye.
Based on this information, traders can assume further price movement and adjust their strategy accordingly. Click here for MT4 Strategies
Recommended Forex MetaTrader 4 Trading Platform
Free $50 To Start Trading Instantly!

(Withdrawable Profit)

Deposit Bonus up to $5,000
Unlimited Loyalty Program
Award Winning Forex Broker
Additional Exclusive Bonuses Throughout The Year
>> Claim Your $50 Bonus Here <<
How to install MT4 Indicator?
Download the mq4 file.
Copy mq4 file to your Metatrader Directory / experts / indicators /
Start or restart your Metatrader 4 Client
Select Chart and Timeframe where you want to test your MT4 indicators
Search "Custom Indicators" in your Navigator mostly left in your Metatrader 4 Client
Right click on the mq4 file
Attach to a chart
Modify settings or press ok
And Indicator will be available on your Chart
How to remove MT4 Indicator from your Metatrader Chart?
Select the Chart where is the Indicator running in your Metatrader 4 Client
Right click into the Chart
"Indicators list"
Select the Indicator and delete
(Free Download)
Click here below to download: