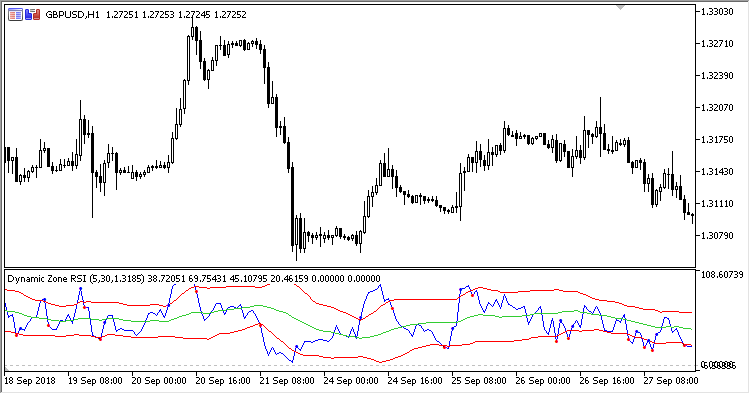 Oscillating indicator Dynamic Zone RSI is Relative Strength Index with dynamic overbought/oversold zones based on Bollinger Bands.
It has six adjustable parameters:
RSI period – RSI calculation period
Bands period – Bollinger Bands calculation period
Deviation – Bollinger Bands deviation
Show intersection arrows – show the labels of RSI crossing the lines of zones
Allow midline intersections – allow controlling the intersections with the midline
Use alerts – use alers as soon as RSI intersects the lines of zones
MT5 Indicators – Download Instructions
Dynamic Zone RSI MT5 Indicator is a Metatrader 5 (MT5) indicator and the essence of this technical indicator is to transform the accumulated history data.
Dynamic Zone RSI MT5 Indicator provides for an opportunity to detect various peculiarities and patterns in price dynamics which are invisible to the naked eye.
Based on this information, traders can assume further price movement and adjust their strategy accordingly. Click here for MT5 Strategies
Recommended Forex MetaTrader 5 Trading Platforms
#1 – XM Market
Free $50 To Start Trading Instantly!

(Withdrawable Profit)

Deposit Bonus up to $5,000
Unlimited Loyalty Program
Award Winning Forex Broker
Additional Exclusive Bonuses Throughout The Year
>> Claim Your $50 Bonus Here <<
Click Here for Step-By-Step XM Broker Account Opening Guide
#2 – Pocket Option
Free +50% Bonus To Start Trading Instantly
9.6 Overall Rating!
Automatically Credited To Your Account
No Hidden Terms
Accept USA Residents
How to install Dynamic Zone RSI MT5 Indicator.mq5 to your MetaTrader 5 Chart?
Download Dynamic Zone RSI MT5 Indicator.mq5
Copy Dynamic Zone RSI MT5 Indicator.mq5 to your Metatrader 5 Directory / experts / indicators /
Start or restart your Metatrader 5 Client
Select Chart and Timeframe where you want to test your mt5 indicator
Search "Custom Indicators" in your Navigator mostly left in your Metatrader 5 Client
Right click on Dynamic Zone RSI MT5 Indicator.mq5
Attach to a chart
Modify settings or press ok
Indicator Dynamic Zone RSI MT5 Indicator.mq4 is available on your Chart
How to remove Dynamic Zone RSI MT5 Indicator.mq5 from your Metatrader 5 Chart?
Select the Chart where is the Indicator running in your Metatrader 5 Client
Right click into the Chart
"Indicators list"
Select the Indicator and delete
Dynamic Zone RSI MT5 Indicator (Free Download)
Click here below to download: