In the ever-evolving world of trading, having the right tools at your disposal can make all the difference between success and failure. One such tool that has garnered significant attention among traders is the Breakout Zones MT4 Indicator. This powerful indicator has proven to be a game-changer for many in the financial markets. In this article, we will delve into the intricacies of the Breakout Zones MT4 Indicator, exploring how it works, its key features, and how it can be effectively used in your trading endeavors.
Understanding Breakout Zones
Before we dive into the specifics of the Breakout Zones MT4 Indicator, it's essential to grasp the concept of breakout zones in the trading world. Breakout zones refer to price levels where a significant shift in market sentiment and momentum occurs. These zones typically mark the beginning of a new trend or a substantial price movement.
The Basics of Breakout Trading
Breakout trading is a popular strategy employed by traders to capitalize on these significant price movements. The goal is to enter the market as soon as the price breaks out of a defined zone, riding the wave of momentum and profiting from the subsequent price movement.
Key Features of the Indicator
User-Friendly Interface
The indicator boasts a user-friendly interface that makes it accessible to both novice and experienced traders. Its intuitive design allows traders to quickly grasp the information presented, facilitating informed decision-making.
Customizable Parameters
To cater to individual trading preferences, the Breakout Zones MT4 Indicator offers customizable parameters. Traders can adjust settings such as timeframes, breakout sensitivity, and more, ensuring the indicator aligns with their unique trading strategies.
Accurate Zone Identification
One of the standout features of this indicator is its ability to accurately identify breakout zones. It does so by analyzing historical price data, volatility, and support and resistance levels. This data-driven approach enhances the indicator's reliability.
Utilizing the Breakout Zones MT4 Indicator
Now that we've explored the key features of the Breakout Zones MT4 Indicator, let's discuss how you can effectively incorporate it into your trading strategy.
Step 1: Customization
Once installed, customize the indicator's parameters to align with your trading style. Adjust settings such as the timeframe you wish to analyze and the sensitivity of the breakout zones.
Step 2: Analysis
Utilize the indicator to identify potential breakout zones on your chosen currency pairs or assets. Pay close attention to the real-time alerts provided by the indicator.
How to Trade with Breakout Zones MT4 Indicator
Buy Entry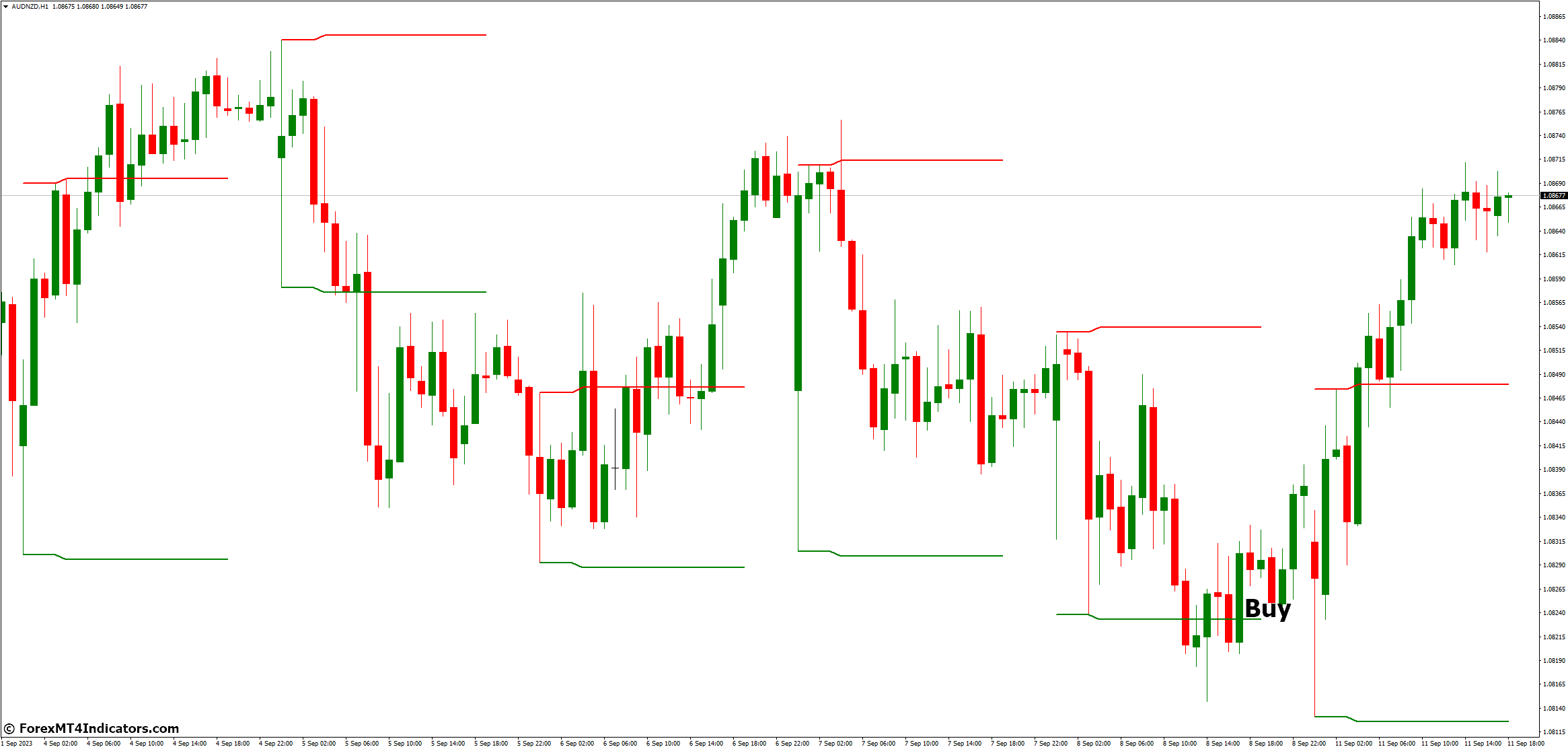 Confirm a breakout above the upper resistance zone.
Look for a green or bullish signal from the indicator.
Enter when the price breaks above resistance with a buy signal.
Set a stop loss below the breakout point.
Determine a take profit level.
Sell Entry
Confirm a breakout below the lower support zone.
Look for a red or bearish signal from the indicator.
Enter when the price breaks below support with a sell signal.
Set a stop loss above the breakout point.
Determine a take profit level.
Breakout Zones MT4 Indicator Settings
Conclusion
The Breakout Zones MT4 Indicator is a valuable addition to any trader's toolkit. Its ability to identify breakout zones accurately can provide traders with a significant edge in the highly competitive financial markets. However, it's essential to remember that no indicator guarantees success, and thorough analysis and risk management are crucial.
FAQs
Is the Breakout Zones MT4 Indicator suitable for beginners?
Yes, the indicator's user-friendly interface makes it accessible to traders of all levels, including beginners.
Can I use this indicator on multiple currency pairs?
Absolutely. The Breakout Zones MT4 Indicator can be applied to various currency pairs and assets.
Does the indicator provide historical data for analysis?
No, the indicator primarily focuses on real-time data to identify breakout zones.
MT4 Indicators – Download Instructions
This is a Metatrader 4 (MT4) indicator and the essence of this technical indicator is to transform the accumulated history data.
This MT4 Indicator provides for an opportunity to detect various peculiarities and patterns in price dynamics which are invisible to the naked eye.
Based on this information, traders can assume further price movement and adjust their strategy accordingly. Click here for MT4 Strategies
Recommended Forex MetaTrader 4 Trading Platform
Free $50 To Start Trading Instantly!

(Withdrawable Profit)

Deposit Bonus up to $5,000
Unlimited Loyalty Program
Award Winning Forex Broker
Additional Exclusive Bonuses Throughout The Year
>> Claim Your $50 Bonus Here <<
How to install MT4 Indicator?
Download the mq4 file.
Copy mq4 file to your Metatrader Directory / experts / indicators /
Start or restart your Metatrader 4 Client
Select Chart and Timeframe where you want to test your MT4 indicators
Search "Custom Indicators" in your Navigator mostly left in your Metatrader 4 Client
Right click on the mq4 file
Attach to a chart
Modify settings or press ok
And Indicator will be available on your Chart
How to remove MT4 Indicator from your Metatrader Chart?
Select the Chart where is the Indicator running in your Metatrader 4 Client
Right click into the Chart
"Indicators list"
Select the Indicator and delete
(Free Download)
Click here below to download: